Birmingham Alabama Investment Property – Turnkey Apartment Building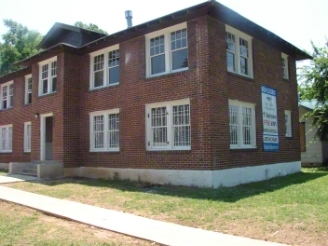 This 12 unit multi family Alabama investment property if fully rehabbed with tenants in place.  This is a solid arm chair investment opportunity with double digit cap rate.  The apartment complex that has 3 separate buildings on one lot. Each building consists of 4 units. Each unit has 1 bedroom and 1 bath, with approximately 800 sq ft.
All the units in this Birmingham Alabama Investment Property were 100% rehabbed inside and out. This complex is 100% turnkey.
Call today for more info on this cash flowing 12 unit property that would be a great addition to any portfolio. 312.433. 9300 x 20
-Brick exterior, new roof, and windows have been updated with new glass and paint
-Interior was gutted and has new drywall, plaster, and paint throughout
-New Landscaping and new concrete walkway from the street to buildings
-WiFi internet access throughout the apartment buildings offered to all tenants
-12 new motion sensor and night vision security cameras that can be viewed anywhere with Internet access
-100% new electrical wire, services, panels, baseboard heaters, and fixtures for all 12 units
-100% new plumbing waste lines, water lines, main city meter, water heaters, tubs, and fixtures for all 12 units
-Interior was gutted and has new drywall, plaster, and paint throughout
-Refinished all hardwood floors and installed new vinyl in kitchens, bathrooms, and dining rooms
-New doors, hardware, cabinets, vanities, and trim throughout
This property is in a great location on a main street in the East Lake community. It is in a prime location next to a brand new Walgreen's, a shopping center, restaurants, and many churches with easy access to the interstate and bus lines.
Priced at $450,000 this cash cow generates $55,000 Annual Net Operating Income. Birmingham Alabama is a strong market with solid fundamentals, this property has been professionally rehabbed and being sold fully leased!