American Foursquare Houses in Oak Park Real Estate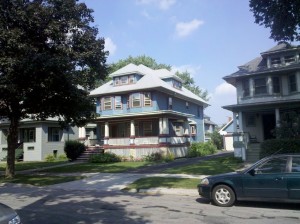 Influenced by the Prairie Style, builders constructed American Foursquare houses in Oak Park in the twentieth century. These houses have roomy interiors and share many features with the Prairie style homes.  They can be found in all the Oak Park neighborhoods. Often they have been dressed up by borrowing elements from Queen Anne, Mission, or Craftsman architectural features.  In Oak Park, "foursquares" come in brick, stone, stucco, and wood siding. Many wood-sided foursquares display the original narrow horizontals and trim that the Prairie architects used and homeowners have painted the wood in arts and crafts palette colors.
Ideal Location Chicago Real Estate's broker Eli Schultz, who grew up in Oak Park and lives in the neighborhood with his family, offers expertise in helping you find the right house in Oak Park. Whether it is a Bungalow, an American Four Square, Victorian or a Prairie-style home or one built in the other architectural styles  that make this community historically significant and desirable to successive generations, Eli Schultz can provide the details and assist you in making Oak Park Real Estate the location of your next home. Since the days of Frank Lloyd Wright, the Gunderson Brothers, and E.E. Roberts, to name just a few of the architects and builders of this community of excellent schools and parks, residents and  town government have worked to maintain excellent municipal services and preserve the integrity and value of Oak Park property. Oak Park is conveniently located with transportation connections to downtown Chicago by rail and El.
To view Oak Park Real Estate currently on the market in the Oak Park area, click on the link below:
[idx-listings city="Oak Park" minprice="300000″ maxprice="500000″ propertytypes="87″ orderby="DateAdded" orderdir="DESC"]