Condominiums in Oak Park Real Estate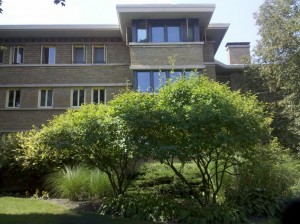 Prairie Style architect E.E. Roberts led the way in Oak Park's multi-family residences when he built an innovative  multi-unit structure in the heart of the community's residential district. That building, now a condominium, reflects Oak Park Real Estate's mix of multi-unit , two-flat, and single-family residences that are interspersed throughout the neighborhoods. Many vintage buildings offer large proportioned space for condominium living, with high ceilings, interior decorative details including wainscoting and molding, and leaded glass windows. There are also 50s and 60s buildings, convenient for commuting, and a new surge of townhouses and mid-rises have been built to accommodate the desire to stay close to downtown Chicago, but live in an urban-suburban community.
Ideal Location Chicago Real Estate's broker Eli Schultz, who grew up in Oak Park and lives in the neighborhood with his family, offers expertise in helping you find the right residence in Oak Park Real Estate. Whether it is a Condominium, a Bungalow, an American Four Square, Victorian or a Prairie-style home or one built in the other architectural styles that make this community historically significant and desirable to successive generations, Eli Schultz can provide the details and assist you in making Oak Park the location of your next home. Since the days of Frank Lloyd Wright, the Gunderson Brothers, and E.E. Roberts, to name just a few of the architects and builders of this community of excellent schools and parks, residents and  town government have worked to maintain excellent municipal services and preserve the integrity and value of Oak Park Real Estate. Oak Park is conveniently located with transportation connections to downtown Chicago by rail and El.
To view Oak Park Real Estate currently on the market in the Oak Park area, click on the link below:
[idx-listings city="OAK PARK" propertytypes="1428,1430″ orderby="ImprovedSqFt" orderdir="DESC" count="25″]
[idx-listings city="Oak Park" minprice="1″ maxprice="900000″ propertytypes="86,116″ orderby="ImprovedSqFt" orderdir="DESC" count="25″]