KFC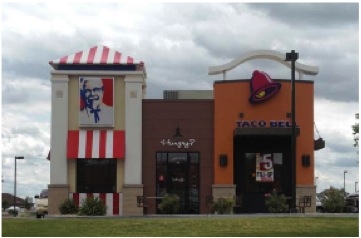 Located in Eaton, Colorado an excellent location just one hour outside of Denver, CO. This KFC Taco Bell Combination is run by an experienced multi unit operator Yum! Brands Franchisee.This is new 2007 Construction – Superior quality asset with no deferred maintenance.
This asset is a management free, Absolute NNN Lease  perfect for out of state and international investors.  Tenant responsible for all maintenance (including roof and structure), taxes, insurance, etc. Inflation protection potential due to tenants responsibility for all increases in maintenance costs, taxes and insurance premiums as well as the inflation protection of the intrinsic value of the land and building.
Long term 18 year lease. Fee Simple Ownership. Offered at an attractive 7.64% Capitalization Rate.

$2,200,000 USD
Location Overview: Eaton is a Statutory Town in Weld County, Colorado, United States. The population was 4,500 as of 2009.
Eaton, Colorado is a rural community located 60 miles northeast of Denver. Eaton was selected as one of the "Top 50 Small Towns in America". The Town of Eaton is one of Colorado's finest community's boasting spectacular views of the Rocky Mountains. The town is well-managed and it has as an excellent location.  Eaton's top industries are Agriculture, Manufacturing and Government. The workforce area for the town covers Weld and Larimer Counties. Several higher education institutions are embedded throughout the area. The population centers of Eaton, Greeley, Fort Collins, Loveland, Windsor and Cheyenne provide a well educated workforce to the business community. Eaton is conveniently located approximately 1 hour from Denver, 30 minutes from Loveland, 25 minutes from Fort Collins and 7 minutes from Greely. Eaton boasts transportation access to US Hwy 85, US Hwy 34, I-25, I-80 and I-76.
Financial Overview:
Taco Bell/KFC
Location:110 Collins St, Eaton, CO 80615
Price: $2,200,000
Base Rent: $61.27/SF
Monthly Rent: $14,000
Landlord Expenses: $0.00
Net Operating Income: $168,000
Cap Rate: 7.64%
Year Built: 2007
Lease: Absolute NNN
Lease Commencement: February 2010
Lease Term Remaining: 18 years (expires 2030)
Net Rentable Area: 2,742 Sq Ft
Land Area: 37,462 Sq Ft
Ownership Type: Fee Simple
Parcel Number: 080306222001
Subdivision: Maplewood Estates Pud 04 Rep