National Tire & Battery Investment Property
National Tire and Battery Auto Parts is owned by TBC Corporation. TBC Corporation has been in business since 1956 and is the nation's largest independent marketer of automotive replacement tires.
The market for net leased National Tire and Battery Auto Parts properties remains strong as investors are attracted to new development of investment grade tenanted properties. What is most attractive about NTB Investment property is one of the longest lease lengths of corporate tenants. There are limited property options for the private buyers seeking investment grade companies with new twenty five year leases, therefore this is a very attractive asset in the current market.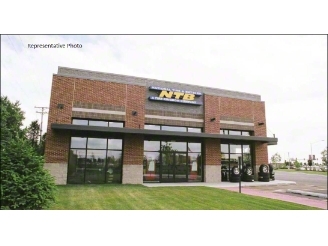 The subject property is currently undergoing a complete renovation with the addition of 1,600 square feet to suit the needs of NTB.  Upon the completion of the project, NTB will begin operating under a 20 year lease that includes three, five year renewal options. Additionally, this offering provides substantial financial upside through the periodic rental increases every five years thereafter, including the options, equal to the lessor of 12% or the cumulative CPI during the previous five years. Financial security for this asset is derived from the strength of the guarantee which is in the name of TBC Corporation, a subsidiary of Japanese corporation Sumitomo an S&P Rated A Company.
The subject property is located in a prominent location along Charlotte Pike, just off of the interchange of I 40 which is one of the regions most traveled interstates. The close proximity to the interstate and the easily accessible location of Charlotte Pike make the area one of the area' s primary retail corridors. Aside from the soon
to be completed NTB, the area is home to national retailers such as Aldi, Advance Auto Parts, AutoZone, Captain D' s Seafood, Ace Hardware, Sonic and numerous other local and regional businesses. Overall, the area surrounding the subject property is densely populated with over 50,000 people residing within three miles and nearly 11,000 business establishments within a five mile radius. Additionally, the area features strong household income with the average household income within three miles exceeding $90,000.
$2,691,000
6,668 SF
$403.57
Cap Rate: 6.40%
100%
Single
1.20 AC
Net Operating Income $172,000
Debt availability with 35% Equity
NTB (National Tire & Battery) http://www.tbccorp.com/about.asp
NTB is owned by TBC Corporation – the nation's largest vertically integrated marketer of tires for the automotive replacement market. TBC employs nearly 8,400 associates nationally. Additionally, the TBC Retail Group operates 491 franchised Big O Tires retailers.The Company's retail operations include Company-operated tire and automotive service centers under the " Tire Kingdom", "Merchant's Tire & Auto Centers", and "National Tire & Battery" brands, and franchised stores under the "Big O Tires" brand. TBC markets on a wholesale basis to regional tire chains and distributors serving independent tire dealers throughout the United States, Canada, and Mexico.
Through its Carroll Tire wholesale distribution centers, the Company also markets directly to independent tire dealers across the United States. Carroll Tire Company sells a wide variety of proprietary and national brands from 38 distribution centers.
TBC markets and sells nine proprietary brands of tires through North America. The Multi-Mile, Cordovan, Sigma, Vanderbilt, Sumitomo, Eldorado, Laramie, Telstar, and Jetzon brands are produced by nationally recognized manufacturers and have a reputation for quality, safety, and value. These brands are distributed through TBC Private Brands and Treadways to independent retailers and wholesalers throughout the United States, Canada, and Mexico.
In 2005, TBC Corporation was purchased by Sumitomo Corporation of America (SCOA). SCOA is the largest subsidiary of Sumitomo Corporation (SC), one of Japan's major integrated trading and investment business enterprises. TBC Corporation still functions as an independent company of SCOA providing the same services and products it has for many years, but has ended its 22-year stint as a publicly traded company on the NASDAQ.
 Buyers Utopia  is a boutique investment real estate network  specializing in income properties. The network  provides a full range of brokerage, advisory, and financing services nationwide to a substantial and diversified client base, which includes high net worth individuals, real estate investors, developers, REITs, partnerships and institutional investment funds. Call 312.433.9300 x20 or Visit Investment Grade Real Estate