Starbucks Investment Property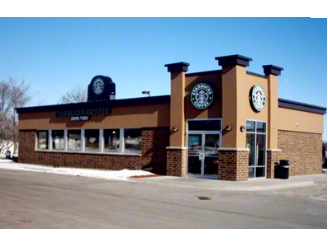 Tenant: Starbucks Corporation
Starbucks Corporation is the premier retailer of specialty coffee in the world. Starbucks Corporation was formed in 1985 and its common stock trades on the NASDAQ under the symbol "SBUX". The Company purchases and roasts high-quality whole bean coffees and sells them, along with fresh, rich brewed coffees, Italian Style espresso beverages, cold blended beverages, a variety of complimentary food items, a selection of premium teas, and beverage related accessories and equipment primarily through Company operated retail stores. Starbucks also sells coffee and tea products and licenses its trademark through other channels. The Company's objective is to maintain Starbucks standing as one of the most recognized and respected brands in the world. Through corporate social responsibility Starbucks focuses its efforts on improving social and economic conditions for coffee farmers; minimizing its environmental impact; making a positive contribution in the communities where it does business; and providing a great work environment for its employees. The Company's brand portfolio includes Tazo teas, Starbucks Hear Music CD's, and Seattle's Best Coffee & Starbucks VIA Ready Brew. They operate 17,000 retail locations in 55 countries.
Property: The subject property is a newer, freestanding, well located, Starbucks in Cedar Rapids, Iowa. The Property consists of an 1,800 sf retail building with drive through lane on 27,000 of land in northern Cedar Rapids. The property is located in front of a Super Wal-Mart, Sam's Club, Lowe's Home Improvement, Aldi Foods, AutoZone, Burger King, Taco Bell & Arby's just west of Interstate 380. Cedar Rapis is the 2nd largest city in the state of Iowa with 126,300 and is within a NSA of 255,000.
$936,000
1,800 SF
Retail Free Standing Building
7.50%
2006
27,007 S
Net Annual Operating Income:  $70,200
Originally a build to suit for Starbucks in 2006, the primary lease term runs through June 14, 2016, with 4 x 5 year renewal options.
Lease Terms
• Original Ten Year Primary Term with Four Years Remaining
 • DOUBLE NET LEASE   (Landlord  is responsible for roof, structure and parking lot)
 • Fixed rental increases every five years including options
 • Four x 5-year renewal  options
Land Area: +/- 0.62 acres
Purchase Price: $936,000
Annual Rent:
$66,600      Years    1 – 5
$70,200      Years  6 – 10
Option Rents:
$73,800      Years  21- 25  (+10 %)
$77,400      Years 26 – 30  (+10 %)
$81,000      Years 31 – 35  (+10 %)
$84,600      Years 36 – 40  (+10 %)
Demographics:
Population: (5 mi.) 123,089                  
Average HH Income: (3 mi.) $74,328
Rent Commenced: June 15, 2006
For More information on this or other corporate tenant properties Call 312.433.9300 x20 or Email rob@ideallocation.com