Affordable Beachfront Property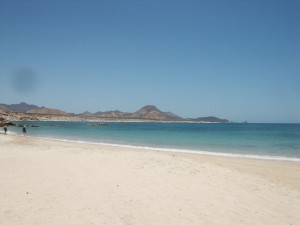 Beachfront property is always some of the most sought after real estate the world over. Their is something innate  in us as humans makes us want to live close to the sea. Unfortunately, because there's a limited supply and high demand, you don't have to be an economist to know prices for ocean front property get driven up very fast. But that doesn't mean all beachfront property isn't affordable, you just have to know where and when to look. For people in the U.S., finding the affordable beach front property can mean taking advantage of the housing bubble to lock in some great deals on property or otherwise looking abroad to developing countries that still have solid rule of law and property rights.
Affordable Beachfront Property in the U.S.
Beachfront property prices in the United States are by no means low and have been growing explosively in the last few years.  However, the recent housing bubble gave a huge hit to land prices, especially in areas like Florida. While the real estate bubble has had a disastrous effects on the economy as a whole, for those with equity some tremendous opportunities exist. Florida beachfront property for instance is a fraction of the price that it was just a few short years ago. While property prices may not end up having the same explosive growth that we have had in recent years, if you'd like to have a beach home and are a patient investor it is inevitable property beachfront property prices will eventually rise again.
Affordable Beachfront Property Abroad
If you really want to find affordable property right on the beach, as well as a lower cost of living, you may need to looking off of the U.S. shores  and travel to other countries. Many place in Latin America are not only accommodating to real estate  investment but are also home to pristine coasts and tropical surroundings that are unmatched even in the most expensive communities in the U.S.
Two very popular destination for expats from the U.S. in recent years have been Costa Rica and Mexico. Both Costa Rica and Mexico have incredibly temperate weather, great surroundings, several different ecological zones, and mile upon mile of pristine coast on both the Caribbean and the Pacific. Property prices in these countries are still relatively cheap compared to those in the U.S., but they have jumped exponentially in the last ten years as more and more people have discovered and invested in these Latin American countries. You can still discover the off the beaten path rural gem's but what is more common now in both Mexico and Costa Rica of late are more upscale gated developments.
How to Find Affordable Beachfront Property Abroad
When you're attempting to buy any real estate  in another country, you need to be incredibly cautious. Start your primary research on the Internet, but don't try to close the sale or sign any contracts without visiting the country first. We highly recommend working with a Certified International Property Specialist of Transnational Referral Certified Broker, For referrals of local CIPS Professionals contact us at 312.492.4470
Featured Projects Coming Soon