Gunderson Houses In Oak Park Real Estate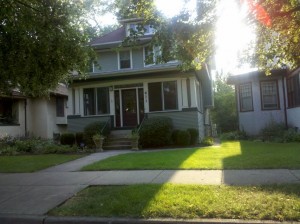 When the Gunderson Brothers built houses in Oak Park more than one hundred years ago, they had families in mind: lots of spacious bedrooms and dining and living spaces for get-togethers and gatherings.  The Gundersons wanted the best quality and hired an architect, Frank Osborn De Money to design the homes. They even brought craftsmen from Norway to build the houses. These were going to be homes that were comfortable and built to last. Several hundred houses in the Prairie-style dotted Oak Park properties and are now designated as Oak Park's third Historic District.  The coordinates of the district are Madison Street to Harrison Avenue, and from the east side of East Avenue to the west side of Ridgeland Avenue. Many of these houses retain the built-in carpentry, fine woodwork, built in glasswork, and third floors that are easy to convert into living spaces.
Ideal Location Chicago Real Estate's broker Eli Schultz, who grew up in Oak Park and lives in the neighborhood with his family, offers expertise in helping you find the right house in Oak Park. Whether it is a Gunderson or one of the other Prairie-style homes that make this community historically significant and desirable to successive generations, Eli Schultz can provide the details and assist you in making Oak Park property the location of your next home. Since the days of Gunderson, Frank Lloyd Wright, and E.E. Roberts, to name just a few of the architects and builders of this community of excellent schools and parks, residents and  town government have worked to maintain excellent municipal services and preserve the integrity and value of Oak Park property. Oak Park Real Estate is conveniently located with transportation connections to downtown Chicago by rail and El.
[idx-listings city="Oak Park" minprice="100000″ maxprice="400000″ propertytypes="87″ orderby="Price" orderdir="ASC" count="25″]