Prairie Style Homes In Oak Park Real Estate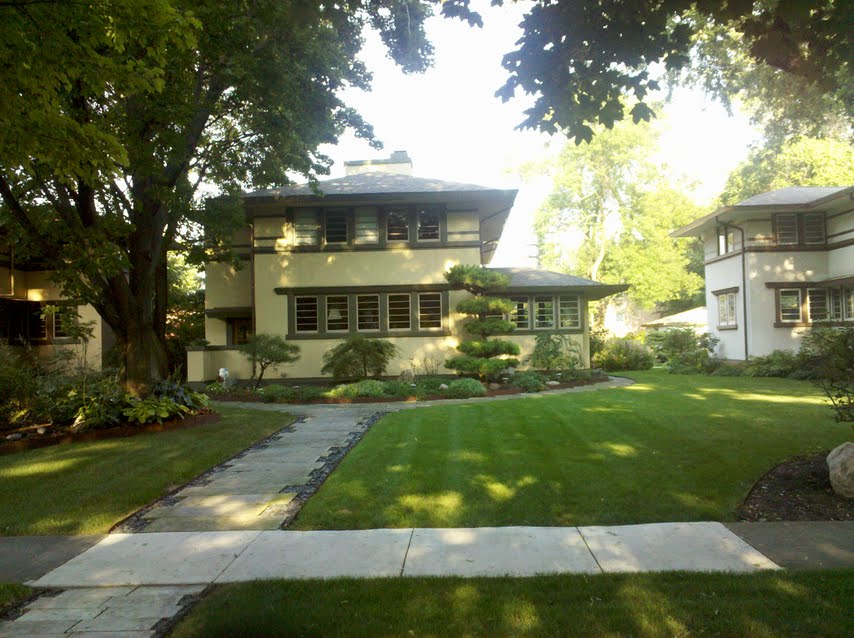 One of America's greatest architects, Frank Lloyd Wright, began designing homes in Oak Park in 1889. Radically new in conception, the Prairie Style Homes designed by Wright featured low horizontal lines, open floor plans, and clerestory windows; they fit the landscape and the exterior brick and stucco in earth tones were a dramatic contrast to Victorian frame houses. Wright worked with other architects including Richard Bock, William Eugene Drummond, Marion Mahony Griffin, Walter Burley Griffin. Other architects in the Prairie- Style School—George W. Maher, John Van Bergen, and E.E. Roberts became well-known and designed many homes in the Oak Park community.  The twenty years of Wright's residency in Oak Park, with his influence on a school of architecture, has given the village an incomparable built environment. Oak Park's three historic districts—the first being the Frank Lloyd Wright District—preserve this architectural heritage and ensure the quality of all the housing in the community.
Ideal Location Chicago Real Estate's broker Eli Schultz, who grew up in Oak Park and lives in the neighborhood with his family, offers expertise in helping you find the right Oak Park property. Whether it is a Prairie-style home or a home built in the other architectural styles that make Oak Park property historically significant and desirable to successive generations, Eli Schultz can provide the details and assist you in making Oak Park the location of your next home. Since the days of Frank Lloyd Wright, the Gunderson Brothers, and E.E. Roberts, to name just a few of the architects and builders of this community of excellent schools and parks, residents and  town government have worked to maintain excellent municipal services and preserve the integrity and value of Oak Park property. Oak Park Real Estate is conveniently located with transportation connections to downtown Chicago by rail and El.
To view Oak Park Real Estate currently on the market in the Oak Park area, click on the link below:
[idx-listings city="Oak Park" minprice="700000″ maxprice="1200000″ propertytypes="87″ orderby="Price" orderdir="DESC" count="25″]