Victorian Houses In Oak Park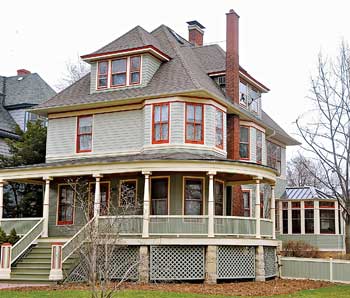 Victorian Houses In the Oak Park Real Estate Market
Famous for being the birthplace of writers Ernest Hemingway and Edgar Rice Burroughs ("Tarzan" novels), Oak Park, established in 1848, grew up as a village in the Victorian period and its graceful, tree-lined streets have Victorian houses galore. These "painted ladies" feature spacious wrap-around porches, arches, turrets, gingerbread trim, and external ornate details. Interior space, first designed for large families, now continues to provide ample living areas, with multiple bedrooms, high ceilings, impressive moldings, fireplaces, and frequently third floors with additional space for family use. Local pride in Oak Park's Victorians, stimulated by historic districts and village awards, has kept many of these vintage properties in top notch condition for modern living. Interest in the Victorians continues to intrigue new home owners.
Ideal Location Chicago Real Estate's broker Eli Schultz, who grew up in Oak Park and lives in the neighborhood with his family, offers expertise in helping you find the right Oak Park Property. Whether it is a Victorian or a Prairie-style home or one built in the other architectural styles that make Oak Park Real Estate historically significant and desirable to successive generations, Eli Schultz can provide the details and assist you in making Oak Park the location of your next home. Since the days of Frank Lloyd Wright, the Gunderson Brothers, and E.E. Roberts, to name just a few of the architects and builders of this community of excellent schools and parks, residents and town government have worked to maintain excellent municipal services and preserve the integrity and value of Oak Park property. Oak Park Real Estate is conveniently located with transportation connections to downtown Chicago by rail and El.
To view Oak Park Real Estate currently on the market in the Oak Park area, click on the links below:
We're sorry, but there's nothing to display here; MLS data service is not activated for this account.