Distressed Chicago Multi Family Investment Properties
A study by DePaul University's Institute for Housing Studies found that $3 billion of multi-family property mortgages already are in foreclosure, affecting more than 32,000 rental units in Cook County. This includes both multi unit 2, 3 & 4 Flats as well as multi-family 5+ units.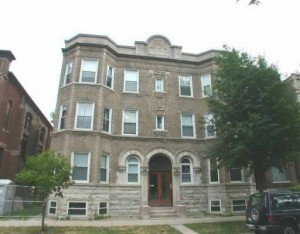 But that is just the tip of the iceberg in cook county as approximately 38,000 additional single-family homes are already in foreclosure in Cook County. The Institute for Housing Studies predicts that and additional Another $12.6 billion in multi-family mortgages are at risk.
Falling property values in Cook County have put about nearly a third multi-family mortgage buildings in danger of default on their mortgages with owners of multi unit two-to-four unit rental buildings are particularly at risk. Since the second quarter of 2007 when prices peaked, property values on small rental buildings in Cook County have fallen 46 percent. As a result, there are 96,000 properties, representing 42 percent of two-to-six-unit buildings, where the owners owe more on the mortgages than the buildings are worth.
For Chicago Real Estate investors this means both tremendous opportunities exist in the market, but due diligence and fundamentals must be adhered to in acquisitions as the DePaul study also found that rental revenues are at or below operating costs for 74,000 apartments in the city.
View the DePaul University's Institute for Housing Studies Report Here
For individual investors in the Chicago market looking for assistance in evaluation of multi family opportunities contact Ideal Location Chicago Real Estate, LLC  at 312.528-9220
The following multi family (5+ Unit) & commercial properties are all bank or lender owned. These listings are updated daily!
View the Commercial Chicago REO Map 
[idx-listings linkid="248149″ count="100″]