Flagstaff Green Real Estate Investment -Flagstaff Home Energy Audit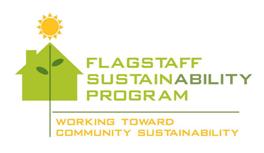 The April 2011 issue of Men's Journal, magazine listed Flagstaff in its "Best Places to Live 2011."
writing up Flagstaff as on one of the best place to "Go Green."with a youthful flair" and as an "eco-minded college town".
One way Flagstaff residents should continue to be "going green" is by renovating their existing home with energy efficient fixtures that are both environmentally friendly and cost effective for the home owner.  As the rising cost of fossil fuels continues to effect almost every aspect of peoples lives, seeking savings through energy efficiency and clean green energy makes sense on many levels.
Investing in the energy efficiency of real estate has two intertwined virtues that make it attractive in a world with a changing climate and destabilized economy. It cuts global warming green house gas emissions and saves money by reducing energy consumption.  Given that the built environment accounts for nearly 40 percent of total energy use in the U.S. green real estate investment and green rehabs in particular maybe the most effective avenue for implementing energy efficiency and going green.
Flagstaff residents know living at altitude in the high country brings almost daily 30-40 degree temperature swings from the early morning hours to the late afternoon. These dramatic temperature swings, intense sun and high winds  bring unique challenges and unique opportunities to buildings energy efficiency. A professional home energy audit is the first step any eco-minded Flagstaff resident should consider when going green because of the unique climate here in the high country.
Flagstaff Home Energy Audit
The audit will assess how much energy your Northern Arizona home consumes and to evaluate what measures you can take to make your Flagstaff home more energy efficient. During the audit, you can pinpoint where your house is losing energy. Audits also determine the efficiency of your home's heating and cooling systems and can show you ways to conserve hot water and electricity.
Flagstaff Green Remodeling
A Home Energy Audit is also a good primer prior to a full on Green Remodeling project. Going Green with a eco-oriented remodeling project on your Flagstaff home will make it much more livable. You will be reducing energy consumption while improving the quality of your indoor environment. When choosing a contractor it is very important to work with a company that specializes in energy efficiency improvements. Also the contractor should be aware of incentives offered through the City of Flagstaff,, Coconino County or APS.When done properly green remodels are transformed to integrate energy savings, sustainable products and sustainable practices to create a safe, healthy home. Ducts, heating & cooling systems, appliances, windows, insulation, framing, paints, siding, decks, and flooring are all areas where you can Go Green in your Flagstaff home. To learn more about greening your home and the
EPA has a very useful website
.
To get a preliminary home energy audit or quote for your
green rehab
project contact us and will put you in touch with a Flagstaff energy efficiency contractor.  
The Northern Arizona Co-Op will also soon be offering sustainability program overviews.