Office Depot Real Estate Investment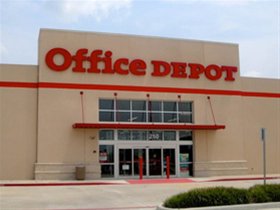 Office Depot has been a solid performer for many real estate investors as a triple net lease real estate investment.  With a solid track record and credit rating our brokers have represented many acquisitions and depositions of Office Depot investment properties.  As of June 2010, Office Depot Inc. (NYSE: ODP) had a net worth in excess of $717 million with a B/Stable rating by Standard & Poor's.
If you would like to find out more about our current triple net lease real estate investment opportunities with Office Depot as a tenant or need assistance in the sale of your triple net lease investment property place contact 312.433.9300 x 20
We currently are pleased to offer representation for sale to qualified investors a new Office Depot retail building located in Alvin Texas a suburb of Houston.
Offering Price:  $3,092,000
Cap Rate:  8.15%
Real Estate Investment Highlights:
New free-standing Office Depot located in Alvin, a suburb of Houston, Texas
Ten year initial lease term with rent bumps every five years
Four, 5-year renewal options
Net Operating Income is $252,000
Rent commencement was May 2009, with annual rent of $252,000
Traffic counts in front of the property on Highway 35 Loop are 35,000 vehicles per day
Property is located in the Alvin Shopping Center at the junction of Highway 6 and the Highway 35 Loop, next to Home Depot and across from Wal-Mart Supercenter
Property Type Retail Price $3,092,000Building Size 21,000 sqft Land Area 1.80 Acres 

Alvin is located twenty five miles southeast of Houston in northeast Brazoria County, on land originally granted to the Houston Tap and Brazoria Railroad. Alvin is located within the Houston?Sugar Land?Baytown Metropolitan Area. As of the 2000 U.S. Census, the city population was 21,413. Alvin's claim to fame is Baseball Hall of Famer Nolan Ryan. The Nolan Ryan Museum is in the Nolan Ryan Foundation and Exhibit Center on the campus of Alvin Community College.

With 2 state highways, both BNSF and UP rail lines, 2 major airports, and Alvin Community College, Alvin also delivers value in transportation and education. Alvin offers many parks and recreational venues to include a hike & bike trail and the new YMCA next to Alvin Community College.

  
The fee-simple property is 100% leased to Office Depot under a new 10-year lease with four, 5-year options.
Please inquire about this or other upcomming triple net lease real estate investment investment properties